Valentine's and Carnevale in Sicily
February 9th, 2018 through February 18th, 2018
The Most Romantic Country on Earth
Thirteen countries have already invaded Sicily over the centuries and now it's our turn.  We're going to plunder many a cafe and gelateria, stealing many a memory from the Capuchin Catacombs and the Valley of the Temples. We will conquer the streets of Sciacca during their Carnivale festivities and Mardi Gras and we will return home victorious with our hearts and minds filled to the brim with new friends, new knowledge, new insights and new stories.  Oh, and probably a few new extra pounds.
RenAdventures have developed the most absolutely incredibly amazing experience you will treasure the rest of your life!
Julianne M. Reiner
Friday, February 9th
Benvenuti a casa! Welcome Home! You will arrive anytime in Palermo. We'll pick you up from the airport and after settling into our gorgeous villa we'll spend a leisurely day relaxing and wandering with Paolo and Carl downtown. After returning to our new home we'll have a homemade dinner by Paolo and Carl and get to know each other.  After dinner you may choose to explore Palermo nightlife and go in search of our first gelato.
Saturday,  February 10th
After a leisurely breakfast we'll head to the streets of this bustling city and discover the sites of Palermo: we'll tour the Cathedral of Palermo and climb it's 125 steps to the top of the roof for unparalleled views of the city. Then we will witness a Sicilian marionette show which has been showing here for hundreds of years before going onto a delightful dinner in a restaurant that is older than the U.S.
Sunday, February 11th
Leaving early we'll head toward Sciacca where awaiting us is the best carnevale celebration in Sicily. But not before heading to the Catacombs of the Cappucini Monks and to get thoroughly creeped out. You should sleep soundly tonight. Paolo and Giacomo will perform some music and magic with a local band in between the parade of floats. We're staying right in the epicenter of the action so you can partake as late as you wish. Carl and Paolo will be standing by to pick you up or bail you out.
Monday, February 12th
For you history buffs we're headed to Selinunte today, an archaeological site containing five temples centered on an acropolis. Then off to Cantine de Gregorio, a beautiful vineyard for lunch and tastings of local wines and olive oils.
Tuesday,  February 13th
On our way to Agrigento we will stop at one of Paolo's favorite places, the magnificent Scala dei Turchi  "Stair of the Turks" ,  a rocky cliff on the coast. From there we'll head to the market in Agrigento so we can cook tonight's dinner. Local chefs will be on hand to guide us and teach us some of the local dishes.  
Wednesday, February 14th
Today is the day we break out our medieval garb for a sumptuous feast!  Just outside of Agrigento is the majestic Castle Chiaramonte from the 1300's which we will first take our time to explore.  That evening we will have a grand medieval feast at the castle and a romantic evening with entertainment and song fit for our RenAdventure kings and queens.   
Thursday, February 15th
From Agrigento we head toward Taormina with a few surprise stops along the way. We'll have lunch at the famous Mt. Etna.  We'll then then arrive in Taormina with enough time to shop along their beautiful promenade.  Taormina is Sicily's most elegant city so perhaps we'll want get a little dressed up for dinner.
Friday, February 16th
We will take you to the greek/roman amphitheatre of Taormina. We'll explore the city by day, and weather permitting, for a small extra fee, go for a boat ride to the blue grotto and Isola Bella. After some wandering and shopping (you'll want to get lost here) we'll meet up and have dinner together in a great restaurant in a truly magnificent restaurant.  
Saturday,  February 17th
Rising early we'll head to Capo d'Orlando and meet Francesco who will give us a little demo on something delicious and then drive to the wonderful coastal city of Cefalu'.  We'll climb the Salita d'Saracino, where from the top of the rock you can see the entire town. We'll find a cafe for lunch, and then head back to Palermo and our last sumptuous dinner together.  
Sunday, February 18th
Today we say "arrivederci" to our new friends and our new favorite country. We know it's a little sad but we hope that you have gathered many memories to last a lifetime.  And the good news is…you can come back.  And we hope you will.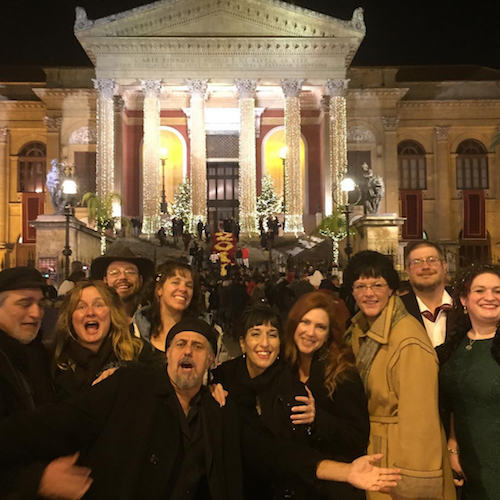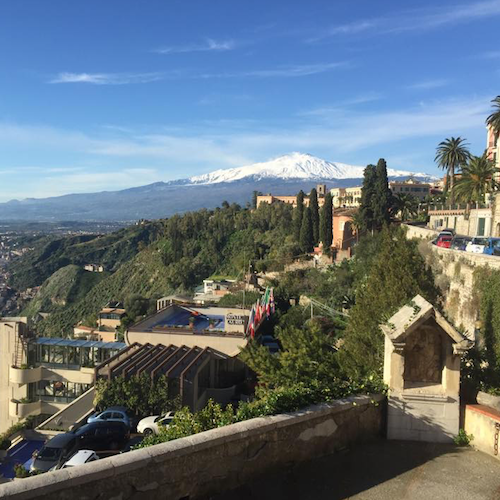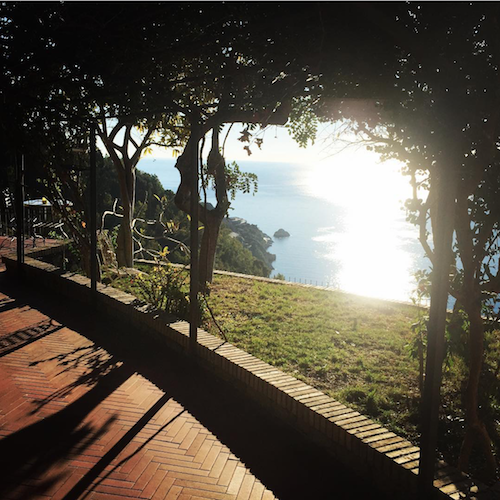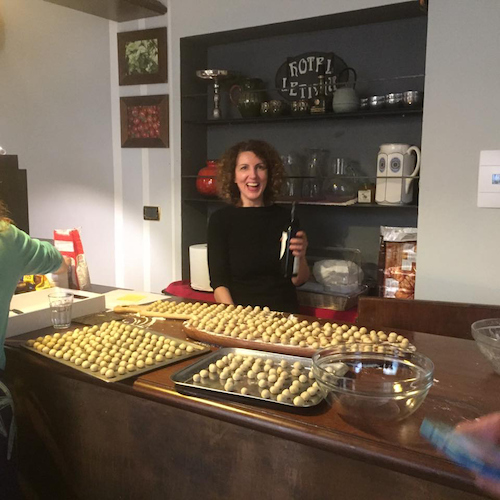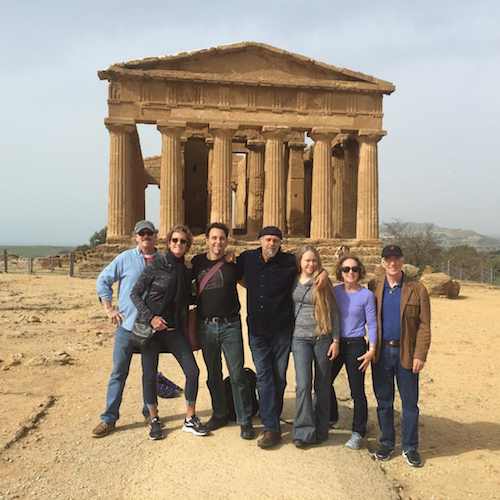 Included:
Welcoming and full assistance during the tour by our quasi-bilingual tour leaders.
9 nights accommodation in double occupancy room, with breakfast and local taxes.
Lunches and dinners specifically listed (this tour covers 7 out of 9 dinners).
Visits, including licensed-guide(s) and entry to the monuments.
The activities listed in the daily programme.
Not Included:
Airfare.
All meals not mentioned as "free lunch/free dinner".
Tips and personal expenses.
Personal insurances (cancellation, luggage, early departure, etc).
Optional activities not listed in the week programme, which you can book through our tour leader.
Everything else which is not clearly specified in the "Included" list.
All our accommodations were top-notch and we traveled in comfort on a private chauffeured mini-bus.
Damaris Wilcox
My husband and I enjoyed Italy tremendously and would never have been able to plan such a visit so well on our own.
Jeanne Lynch