Tuscan Salutation
Adding to our usual exciting tours, we're offering yoga classes by 23 year certified and registered yoga instructor, Cherie Ferro.  Each morning you will have the opportunity (certainly not mandatory) to stretch out and both prepare your body for the day's activities and work off some of the calories from yesterday's activities. A win-win all the way around. Also we'll have a couple sunset yoga sessions on the beaches of Cinque Terre, so, be sure and pack a mat and straps for these superb classes.
RenAdventures have developed the most absolutely incredibly amazing experience you will treasure the rest of your life!
Julianne M. Reiner
Monday, June 11th
Benvenuti a casa in Italia.  Welcome home to Italy.  Paolo and Carl will pick you up at the Pisa airport and whisk you away to our stunning place in the beautiful walled city of Lucca. Your esteemed hosts will prepare your first dinner as you relax and settle in. Then we'll take "una passeggiata"; a stroll to the only circular piazza in Italy, Piazza Anfiteatro to our first of many gelatos
Tuesday, June 12th
The city below you on the left and the mountains above you on the right.  That is our view as we bike ride on top of the famed wall of lucca.   It's an easy, flat ride around the city so there's no reason to be intimidated. Or if you'd prefer, walk or just sit and people watch at a cafe. You will be enthralled in any case. We'll tour Lucca's church built upon the ruins of a Roman temple, and shop for clothes and souvenirs along via Fillungo.
Wednesday, June 13th
From Lucca we head up the coast to Cinque Terre a string of centuries-old seaside villages on the rugged Italian Riviera coastline. In each of the 5 towns, colorful houses and vineyards cling to steep terraces.  We'll go swimming and have a relaxing sunset yoga on the beach.
Thursday, June 14th
Get your hiking shoes on, everyone, we're going to the Sentiero Azzurro cliffside hiking trail which  links the villages and offers sweeping sea vistas. You can go as far or as short as you wish. Then for dinner we head to a trattoria where they will turn out seafood specialties along with the Liguria region's famous sauce, pesto.
Friday, June 15th
We leave the shores of Cinque Terre and head south. We'll stop in Pisa to take the requisite pictures at the leaning tower and have lunch. Then we'll drive and enter the medieval town of San Gimignano. After settling in we will tour a nearby winery and have a tasting of wines and olive oil.  Then we will dine amongst the 13 remaining towers and be transported back to the Middle Ages.
Saturday, June 16th
We will have breakfast at the villa while overlooking the Tuscan hills. This is a sight you will cherish for the rest of your lives.  There are a lot of things to choose from today.  San Gimignano has a tower torture museum… there is a beautiful church.  There is a natural history museum.  Climb the bell tower of the city's tallest tower and see unparalleled views of the area.  Or just sit at a cafe and indulge in what many people say is the best gelato in Italy. (well Carl says this) This afternoon is on your own and we will meet up for dinner.
Sunday, June 17th
After arriving in Florence and settling into our villa we'll take you for a tour and a clandestine picnic lunch in the beautiful Boboli Gardens and then over to the Duomo.  If you're up for it we'll climb the 463 steps to the top and see the city as though from heaven.
Monday, June 18th
Waking early we're going to take to the water. Right after breakfast, we're going to paddle and float up the Arno river toward the Ponte Vecchio. We'll learn things about Florence that you can't see from land and have an aperitivo from the shore. (it's 5 o'clock somewhere.) then we'll head to Florence's famous outdoor market where we'll by food for tonight's feast. The freshest and tastiest of produce is to be had right here. We'll have lunch here as we're shopping and and then head back to the villa for a nap. For dinner we'll be making various Tuscan dishes with the help and instruction of local chefs. We'll also learn to play "Scoppa" Italy's national card game and watching a beautiful Italian movie filmed nearby.  Rest up, my friends, you're going to need your strength for tomorrow
Tuesday, June 19th
Today is a busy day with lots of walking, lots of history and with lots of sights to be seen. We'll visit the Baptistry, the Pitti Palace, and see Michelangelo's David in the Accademia.  (Whew, I'm exhausted just writing about it)  after dressing for dinner we'll head out to a fabulous renaissance Banquet as our last dinner together.   
Wednesday, June 20th
After a grand breakfast Paolo and Carl wish a fond farewell to our fellow travelers as we drop you at the Florence airport.  We hope your world is enriched with our last ten days together and that you have fallen equally in love with this land that we care so much for. Buon viaggio, amici. We know you'll be back.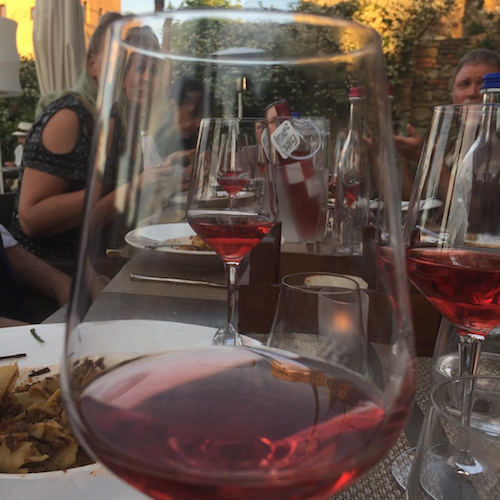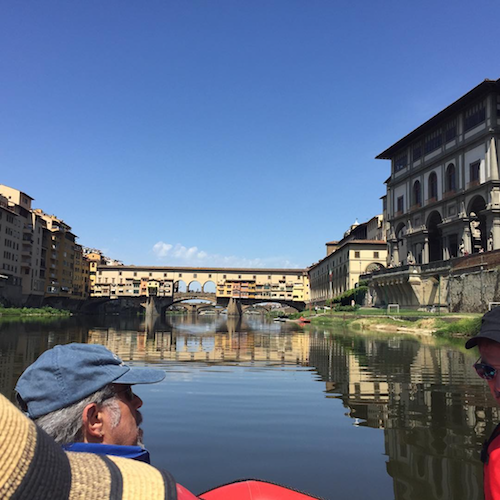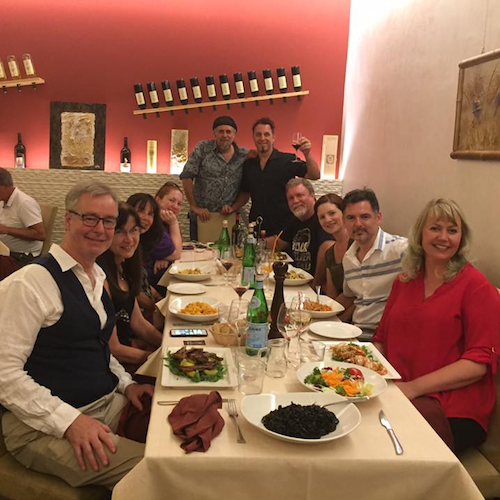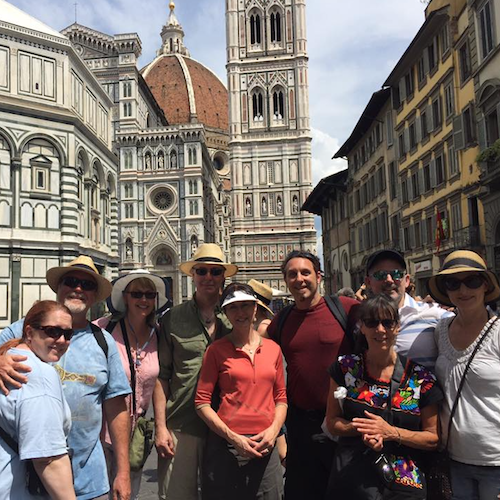 Included:
Welcoming and full assistance during the tour by our quasi-bilingual tour leaders.
9 nights accommodation in double occupancy room, with breakfast and local taxes.
Lunches and dinners specifically listed (this tour covers 7 out of 9 dinners).
Visits, including licensed-guide(s) and entry to the monuments.
The activities listed in the daily programme.
Not Included:
Airfare.
All meals not mentioned as "free lunch/free dinner".
Tips and personal expenses.
Personal insurances (cancellation, luggage, early departure, etc).
Optional activities not listed in the week programme, which you can book through our tour leader.
Everything else which is not clearly specified in the "Included" list.
All our accommodations were top-notch and we traveled in comfort on a private chauffeured mini-bus.
Damaris Wilcox
My husband and I enjoyed Italy tremendously and would never have been able to plan such a visit so well on our own.
Jeanne Lynch