Discover the Music of Tuscany
This tour brings you Italian music and magic in some of our favorite cities in Tuscany. Joining your favorite Jesters on this tour will be Melodio (Ty Billings) and Vincenzo (Vince Conaway).  Revel in a medieval festival near historic Florence, stroll the streets of Siena, bike around the walls of Lucca, and enjoy a special concert just for you by our four RenAdventures troubadours. If you want a journey with art, history, music, and food that you'll be yearn to return to, this trip is for you.
RenAdventures have developed the most absolutely incredibly amazing experience you will treasure the rest of your life!
Julianne M. Reiner
Friday, June 1. Florence.
Benvenuti a casa in Italia. Welcome home to Italy! Paolo and Carl will pick you up at the Florence airport and whisk you away to our stunning villa downtown near the Arno river and the Ponte Vecchio. Your hosts will prepare your first dinner as you relax and settle in. During dessert you'll be privy to a concert by the musicians of Ben'occhio. Then we'll take a stroll to our first of many gelatos.
Saturday, June 2. Florence. Duomo, Boboli Gardens, Pitti Palace.
Today is full of excitement, with lots of walking, lots of history and with lots of sights to be seen. We'll visit the Baptistry, the Duomo, (and if you're up for it, we'll climb the 463 steps to the top), the Pitti Palace and have a clandestine picnic lunch in the Boboli Gardens. After dressing for dinner, we'll head out to a fabulous restaurant and wine tasting. Then, we'll wander the streets and explore some of the lively Florentine nightlife.
Sunday, June 3. Florence. Festival and Renaissance Banquet in Florence.
Garb up, amici. This is the festival of Cortona! Enjoy the traditional Italian flag twirlers, falconers, a crossbow competition, joust, and more. Paolo and Giacomo will perform their acts in Italian and Ben'occhio will be playing music. Then we return to Florence for a Renaissance Banquet in a palazzo.
Monday, June 4. Rafting, Chianti, Siena.
Waking early, we're going to take to the water. Right after breakfast, we'll paddle and float up the Arno River toward the Ponte Vecchio, learning things about Florence not visible from land. Then, we'll have an aperitivo. After all, it's 5 o'clock somewhere! Next, we'll say goodbye to Florence and head toward the campo of Siena, Florence's bitter rival during the Middle Ages.
Tuesday, June 5. Siena.
Today we meet Antonio, who runs the best macellia in Siena, and he will create for us a feast which we will take with us to the campo. There we will sit and lunch at our leisure, as Italians have done for the last 800 years. There is much to see here in Siena, and Vince is an expert in its history and architecture.
Wednesday, June 6, San Gimignano.
After a short drive, we will enter the medieval town of San Gimignano. After settling in, we tour a nearby winery and have a tasting of wines and olive oil. Dining amongst the 13 remaining towers, we'll feel ourselves to be transported back to the Middle Ages.
Thursday, June 7. San Gimignano.
We will have breakfast at the villa while overlooking the Tuscan hills, a sight to cherish for the rest of your life. There are a lot of things to choose from today: San Gimignano has a torture museum, a beautiful church, a natural history museum and more. Climb the bell tower of the city's tallest tower and see unparalleled views of the area. Or just sit at a cafe and indulge in what many people say is the best gelato in Italy. (Well, Carl says this) This afternoon is on your own and we will meet up for dinner.
Friday, June 8. Lucca.
After lunch we drive to Lucca, a beautiful double walled city with roots as far back as the Roman Empire. Explore inside the the double wall, designed by our old friend, Leonardo, and after a yummy Tuscan feast we'll head to Piazza dell'Anfiteatro for a concert. (Not to fear, there is always wine and gelato nearby.)
Saturday, June 9. Lucca.
The city below you to the left, and the mountains above you on the right – that is our view as we bike ride atop of the famed wall of Lucca. It's an easy and scenic ride around the city. Or if you'd prefer, you can opt to stroll instead or just sit and people watch at a cafe. You will be enthralled in any case. We'll tour Lucca's gothic church and shop for clothes and souvenirs along Via Fillungo.
Sunday, June 10. Depart. Ciao!
After a grand breakfast, Paolo, Carl, Ty, and Vince wish a fond farewell to our fellow travelers as we drop you at the Pisa airport. We hope your sense of the world is enriched by these adventures, and that you have fallen in love with this wonderful land, just as we have! Buon viaggio, amici. We know you'll be back.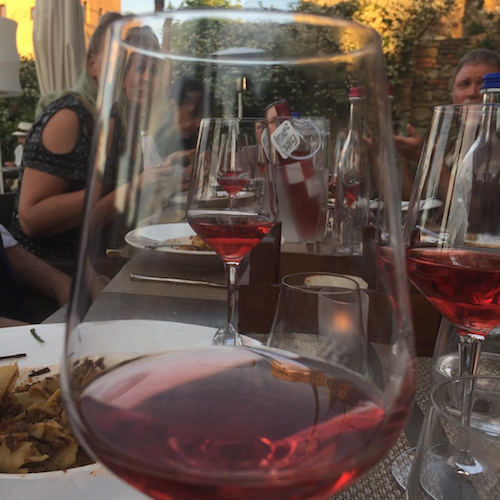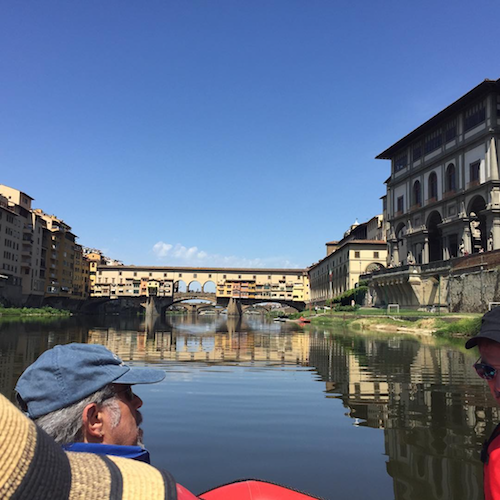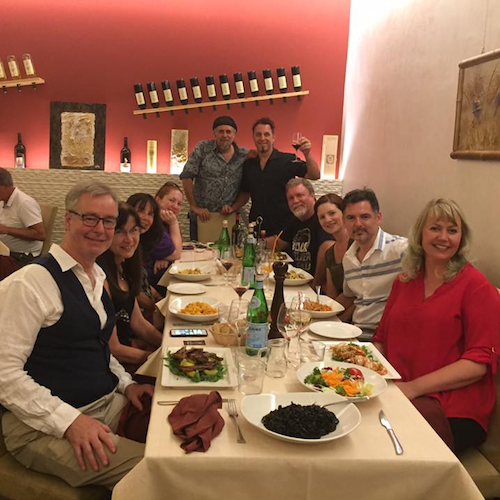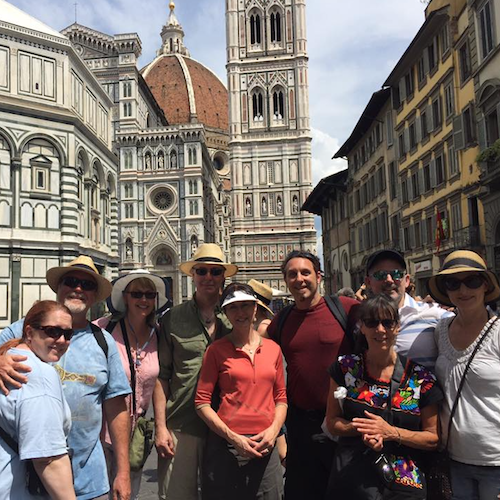 Included:
Welcoming and full assistance during the tour by our Italian-proficient tour leaders.
9 nights accommodation in double occupancy room with breakfast.
Lunches and dinners specifically listed (this tour covers 7 out of 9 dinners).
Visits, including licensed-guide(s) and entry to the monuments.
The activities listed in the daily programme.
Not Included:
Airfare.
All meals not mentioned as 'free lunch/free dinner'.
Tips and personal expenses.
Personal insurances (cancellation, luggage, early departure, etc).
Optional activities not listed in the week programme, available for booking through our tour leader.
Everything else which is not clearly specified in the above paragraph 'Included' list.
All our accommodations were top-notch and we traveled in comfort on a private chauffeured mini-bus.
Damaris Wilcox
My husband and I enjoyed Italy tremendously and would never have been able to plan such a visit so well on our own.
Jeanne Lynch