Beer, Castles, Wine, Wiener Schnitzel, Beer, Yodeling, Wine, and did we mention BEER?
They like it nice, tight, and orderly. You too can get in touch with your German side and join Iris and Rose in Munich and surrounding areas. Tour castles, drink in the famous brew houses, and meet the locals. This "village" of a million people welcomes you with a little help from the ladies that never met a stranger. Limited (10 people) availability. Book early.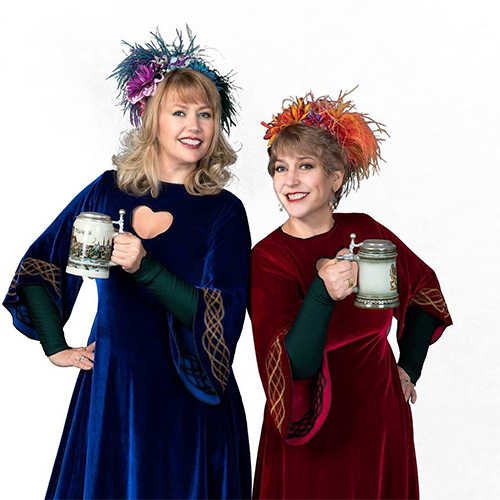 Itinerary
Welcome to Germany!
Here is our itinerary for a memory filled trip through some of our favorite places in the world. We hope to have everyone join us on all of these adventures. We understand that some activities may not be desirable by everyone so let us know if you would like to opt out on any given day. Plans can be changed. This is all about your experience.
Upon your arrival on Friday, June 7th, we will pick you up at the airport and get you back to our new home in Munich. It's then time for rest and recovery, or a little independent sightseeing. Dinner will be early so we can stroll to a pub or two in our area and then retire in anticipation of a full day tomorrow.
After breakfast the next morning, we will really get acquainted with the city. There will be a guided walking tour lasting around 2 hours followed by a true Munich tradition- the famous Hofbrauhaus! We will grab some lunch and a few pints there before releasing you for a short time in the bustling and beautiful Marienplatz. We'll gather for dinner at 6:00. Then get ready for the comedic stylings from the Bus Stage Comedy Tour at 8:30.
On June 9th, now that you are more familiar with the city, we will delve into the culture. After breakfast, we will head to the museum district. View the art and interact with the locals. You can spend as much or as little time as you please soaking in the history and culture. Lunch options are plentiful. Next, we're off to the market to buy groceries for an authentic German cooking class. That, of course, is dinner. After a full day, the options for the evening are yours. You can either make it an early night or come with us to the local pub- the friendly Heuboden Kneipe.
After breakfast on June 10th, we move on to our next adventure. The trip will take about 2 hours, but oh, it will be worth it. We will finally be seeing one of the most iconic castles in the world. Welcome to Neuschwanstein! Hohenschwangau and Neuschwanstein castles are an all day affair, so wear your walking shoes. Dinner and drinks will follow, and the evening is yours.
Tuesday the 11th is going to be an outdoor adventure day. Let's go river rafting! First we will breakfast then make our way to the river guides. We will follow up with a trip to the thermal baths to soak out the aches. Dinner and drinks are next, and then we can meander through the highlights of the city. The night is yours, but remember to pack up because we are off to Salzburg, Austria next.
Upon arriving at our new location on June 12th, we will be having lunch and then tour the quirky and frisky Schloss Hellbrunn Palace. See everything you can because we have to dive into our host country's culture, right? How about a yodeling class? No one can be embarrassed when you're in another country, so let 'er rip. Dinner will follow, and then we will wrap the evening in a touch of class with a soothing Mozart concert.
Thursday the 13th begins with breakfast and then the Sound of Music Tour. This fun tour lasts several hours and has many stops, but you may want to bring a snack because lunch will be a bit later this time. Salzburg is very tourist friendly, so spend some time wandering about and looking at everything. Shop, eat ice cream, drink at a pub, and then we will meet for dinner.
We are going back to Munich after breakfast for another day on the water. The riverboat tours are simply lovely and cater to your needs with drinks and food available. Once we are back on dry land, we can decide on a small or large dinner, depending upon how full you feel, and polish off our evening at the Heuboden Kneipe for a great time with the locals.
Saturday, June the 15th we can start slow with breakfast and the Nymphenburg Palace. Walk and gawk and revel in the majesty and the incredible grounds of this amazing palace. Then, let's make our way to Sendlinger Strasse for lunch and shopping. The afternoon is yours. We will meet for dinner and a final show stopping night at the Cirque Eloize-Saloon.
June 16th is when we have to kiss the city goodbye. We will make sure you get to the airport and send you off with great memories, food, and, hopefully, a desire to join us again. Auf Wiedersehen!
What You Get
Included:
Welcoming and full assistance during the tour by our quasi-bilingual tour leaders.
9 nights accommodation in double occupancy room, with breakfast and local taxes.
Lunches and dinners specifically listed (this tour covers 7 out of 9 dinners).
Visits, including licensed-guide(s) and entry to the monuments.
The activities listed in the daily programme.
Not Included:
Airfare.
All meals not mentioned as "free lunch/free dinner".
Tips and personal expenses.
Personal insurances (cancellation, luggage, early departure, etc).
Optional activities not listed in the week programme, which you can book through our tour leader.
Everything else which is not clearly specified in the "Included" list.
Praise for RenAdventures
"RenAdventures have developed the most absolutely incredibly amazing experience you will treasure the rest of your life!"
 – Julianne Reiner
"My husband and I enjoyed Italy tremendously and would never have been able to plan such a visit so well on our own."
 – Jeanne Lynch
"Would I go on another tour with RenAdventures? Absolutely—the sooner the better!"
 – Cherie Ferro
"I'd go again every year if I could, and do plan on another trip with them!"
 – Diana Ballew