She had seen him once, smiling a little through another friar's sermon about Hell, saying after the other left that fear of Hell is one of many paths to it. Forget Hell and love one another. That is all He wants of you.
Christopher Buehlman
Tour Medieval France with Christopher Buehlman
Come and see Paris, Burgundy and Provence with Christopher Buehlman, aka Christophe the Insultor, author of supernatural thriller Between Two Fires. From the narrow medieval alleys of the Latin Quarter to the vineyards of Burgundy and Provence, wine will be poured, tales will be told, and a dozen lucky travellers will embark on the literary tour of a lifetime. Featuring compelling readings by the author in the actual locations described in the novel, the Between Two Fires tour is unlike any trip you'll ever take again.
Cormac McCarthy's The Road meets Chaucer's Canterbury Tales in this frightful medieval epic…Buehlman…doesn't scrimp on earthy horror and lyrical writing in the face of unspeakable horrors…an author to watch.
Kirkus Reviews
Thursday. June 21. Bienvenu à Paris!
Start your journey with a relaxed day of welcome and acclimation. Carl will pick you up at the airport and spirit you to your 5th Arrondissement lodgings. Join your hosts and fellow pilgrims for an early dinner at a local bistro and get a good night's sleep, if you can. An introductory reading from Between Two Fires should give you interesting dreams!
Friday. June 22. Rendez-vous à Notre Dame.
Follow the footsteps of the knight Thomas and his companions Delphine and Père Matthieu to Île de de la Cité, the island at the heart of Paris, where you will marvel at the grand gothic jewel-box that is Notre Dame de Paris, one of the most beautiful and famous cathedrals in the world. Cross the bridge to the Latin Quarter and explore the medieval treasure trove at the Cluny Museum, home to the famous unicorn tapestry. The author will show you the statue of the Virgin that inspired perhaps the scariest chapter in the book, Of Those Who Knock by Night, as well as various other artifacts and objets d'art from the 14th century.
Saturday. June 23. Jour de Musée.
The Louvre is the most well-known museum in the world for good reason. A local guide will walk us through a tour of medieval artwork and sculpture, after which pilgrims will be left to their own devices to explore at their leisure. By night, we propose a 'pub crawl' to explore Latin Quarter night life. Don't worry, you can sleep it off tomorrow on the bus.
Sunday, June 24. Auxerre.
We'll leave Paris by private bus and set out for Auxerre, the medieval Burgundian town where Delphine stood up to a devil masquerading as a leader of penitents. We'll visit the magnificent Cathedral St. Etienne, walk around the old town, check out the clock tower and sip some Burgundy wine by the river Yonn.
Monday. June 25. Chaussures de marche.
Lace up your hiking boots! We'll start the day with an early morning hike. With the Nivernais canal, orchards, vineyards and forests to choose from, your guides will select a path sure to charm and captivate. Evening reading with the author back at the hotel.
Tuesday. June 26. Au revoir Auxerre, salut Lyon!
We journey now to beautiful Lyon, third city of France and home to some of its best cuisine. Our adventurers stopped here only briefly during their harrowing river journey, but this confluence of the Saône and Rhône rivers will tempt us to spend two nights with her. We'll take a late afternoon stroll around the neighborhoods of St. Jean and St. George, the medieval old town, and find a nice place for dinner.
Wednesday, June 27th.
Although Perouges doesn't figure in the novel, it is considered by many to be the prettiest medieval town in France. Situated less than an hour Northeast of Lyons, we'll spend the whole day wandering the old stone streets and visiting artisanal shops before heading back for dinner at one of Lyon's exquisite restaurants.
Thursday. June 28. Allons-nous en Provence!
Following a beautiful bus ride through Provence, Avignon, city of popes, welcomes you with open arms–you'll be ready to walk, and walk you shall! You'll admire la Place de l'Horloge, stroll around the old city, visit shops and see the famous Pont St Bénézet.The papal palace dominates Avignon today even as it did during the time of the 'Babylonian Captivity' of the 14th Century, when the culturally dominant French forced the removal of the papacy from Rome to Avignon. Because it figures so heavily in Between Two Fires, we'll give it a good, long visit. 'Secret' tours are staged which show guests 'les coulisses,' or 'behind the scenes;' these normally only run in the spring and fall, and normally only in France, but we'll see what we can do. Back at our lodgings, the author will read a relevant chapter or two while you've got the actual setting fresh in your imagination.
Friday. June 9. In vino veritas.
Several excellent companies run wine tours of Cotes du Rhône and Chateauneuf du Pape vintners-we'll find just the right one. And, just to make sure we don't encounter any undead (and probably unpaid) night-vintners, we'll visit in the afternoon. Expect to day-drink.
Saturday. June 30. Expédition à Gordes et Sénanque.
The Cistercian abbey of Sénanque, while located in Provence, will perhaps recall the abbey Thomas and Delphine found in Normandy early in Between Two Fires-except that this Provençal abbey is famous for the cultivation of lavender. We had planned on doing this tour earlier in June, but lavender only starts to bloom toward the end of the month, and you'll want to see the fields alight with this gorgeous purple flower. Sénanque runs tours in French only, but, whether you understand the language or not, it will be well worth seeing. Not far from the abbey stands the gem of the Luberon, the fortress town of Gordes, another exemplary medieval village said to rival Perouges. Back home, you'll hear a final reading from Between Two Fires.
Sunday. July 1. TGV "Train à Grande Vitesse"
You'll say your goodbyes at a final breakfast where you'll receive, as a parting gift, a copy of a brand new short story Mr. Buehlman will compose during the trip and read at this final meal together. Will some members of the party make it into the narrative? Will you recognize landmarks you've seen? Anybody's guess. But yours will be the first ears to hear it, and that signed and dated copy will be yours to keep. We will all board a high-speed train and rocket off to Paris, where we'll enjoy one last dinner together in restaurant chosen for ambiance.
Monday. July 2.  Salut, les gars!
We depart for our several journeys home.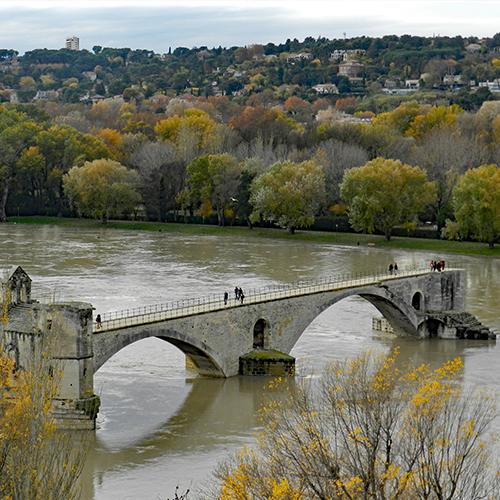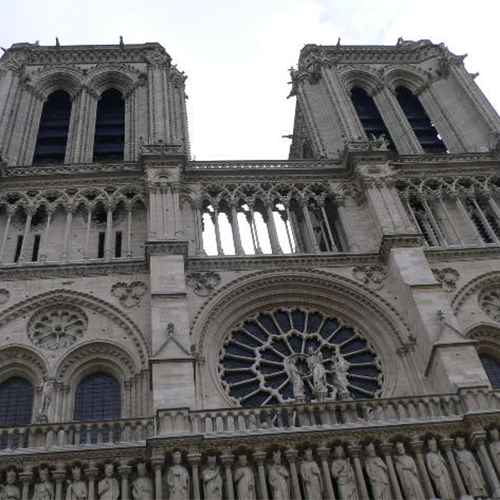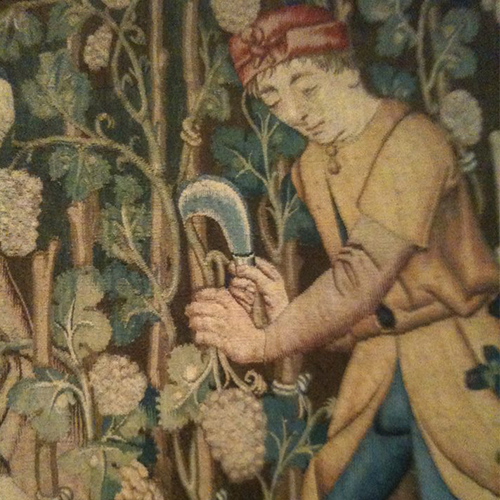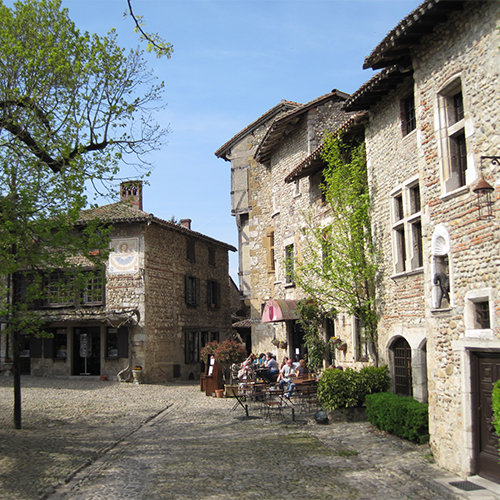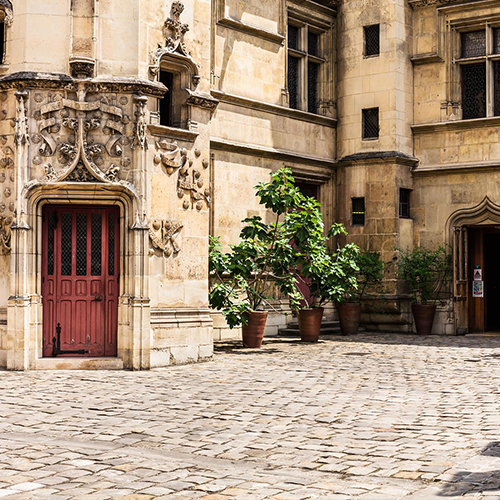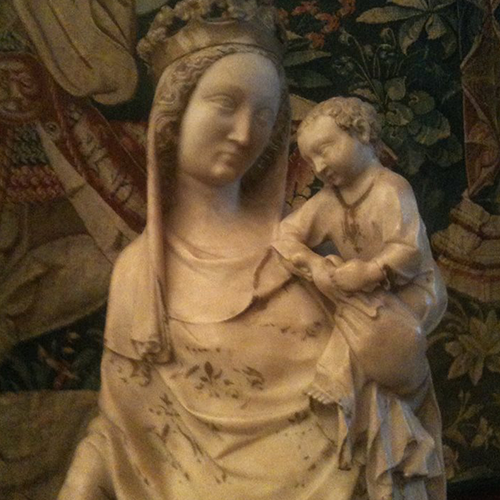 Included:
All ground transportation including pick up and drop off at the Charles de Gaulle International Airport.
Welcoming and full assistance during the tour by our tour leaders.
11 nights accommodation in double occupancy room, with breakfast and local taxes.
All breakfasts and dinners a dinners specifically listed.
Admissions into all attractions, churches, museums and monuments. including licensed-guide(s)
Not Included:
Airfare.
Most lunches
Tips, souvenirs, and personal expenses.
Personal insurances (cancellation, luggage, early departure, etc).
Optional activities not listed in the week program, which you can book through our tour leader.
All our accommodations were top-notch and we traveled in comfort on a private chauffeured mini-bus.
Damaris Wilcox
RenAdventures have developed the most absolutely incredibly amazing experience you will treasure the rest of your life!
Julianne M. Reiner